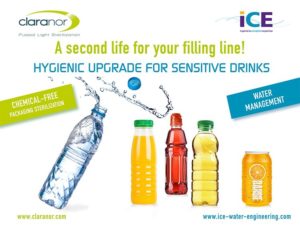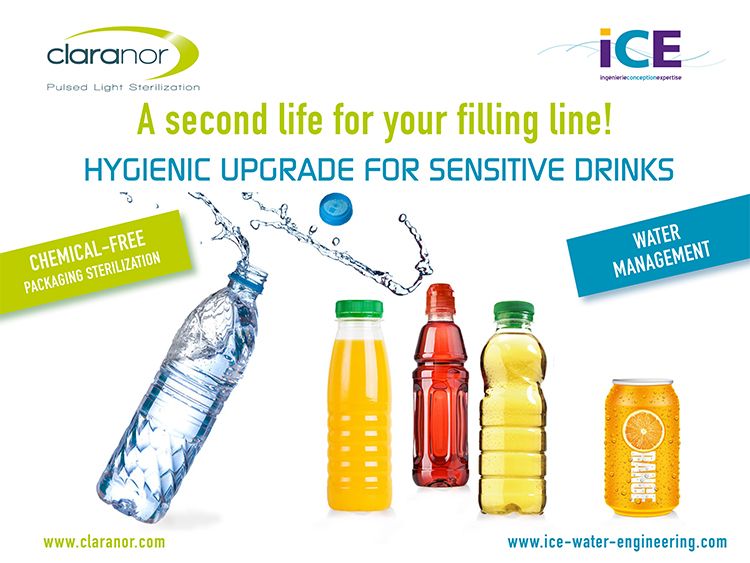 At Gulfood Manufacturing 2017 exhibition, I.C.E and Claranor will show their innovative solution on beverage quality protection…
Total water quality management combined with chemical free packaging sterilization
At the Gulfood Manufacturing 2017 exhibition in Dubaï, from October 31th to November 2nd, Claranor and I.C.E will show their innovative solution on beverage quality protection:
I.C.E and Claranor bring their strengths together, to offer a brand new combined solution for the control of product quality of high speed water and beverages filling lines. Their goal is to propose a protection of the water quality throughout the production process: from the well to the package product.
How can microbial contamination influence product quality?
The consumer is now attracted by less sugared, more natural, healthiest beverages. Those new products are more challenging to produce. Microorganisms brought by packaging (preforms, caps) into the product may affect their microbial stability, generating spoilage, in sensitive products like treated bottled water, natural fruit juices … As soon as the water needs any demineralization or reverse osmosis treatment, its natural microbial balance is affected. Germs contained in packages do not have to compete anymore against the original flora which has been eliminated, they can grow! Hygiene on the line and in packaging is a must.
How does the water quality impact the quality of your beverages?
The water constitutes more than 90% of most beverages.
The quality of water affects taste and smell of the product and consequently strongly impacts the final drink quality and the brand.
Monitoring water quality means protecting the brand!
Claranor, I.C.E Water Quality Program: a turnkey and sustainable solution to upgrade your filling lines.
Combining the expertise of I.C.E and Claranor, the program offers to the beverage producers a global approach of product, process and packaging hygienic quality. The program starts with a quality audit performed by I.C.E and Claranor experts with a global assessment from the well to the bottle.
Thanks to their international experience with the beverage industry, more than 180 cap units have been installed worldwide for Claranor and 200 projects for I.C.E. They are now both acknowledged by the most famous beverage companies in the world.
Furthermore, Claranor and I.C.E solutions are sustainable. Claranor devices are water-free and chemical-free, I.C.E is focused on water and energy yield thus offering to the beverage producers a way to achieve their sustainability goals.
This new Gulfood manufacturing edition will be a great opportunity for beverage producers from the MENASA region to discuss their water quality management projects with Claranor and I.C.E team.
Visit us booth Z3-A84 in ZA'ABEEL Hall 3 (French Pavilion) – Dubaï World Trade Centre – Dubaï – United Arab Emirates.