Al Jomaih Bottling Plants – Riyadh – Saudi Arabia –
Extension of a water treatment plant for the soft drinks production in Saudi Arabia
ICE successfully carried out the extension of the water treatment capacity for Al Jomaih Bottling Plants (ABP) soft drinks production facility.
The partnership between ICE and ABP began in 2009 with the Aquafina water launch. ABP only uses water with the highest standards. Particular attention to water savings is taken to produce sodas, along with production costs control. The Company thus optimises its water usages by modernising the installations in its plants and regularly invests in state-of-the-art technology.
The water treatment facilities are designed according to the strictest global quality standards.
Project stakes

Our partner ABP has invested in 3 new bottling lines along with their supporting utilities, in extension to the equipment already in production at the IRC plant in Riyadh.
ABP entrusted ICE with the installation of the water treatment and CIP(1).
The solution proposed by ICE Water Management combined food safety, water savings and industrial performance, with the best quality/price ratio and in accordance with the turnaround time requirements.
Al Jomaih Bottling Plants wanted a turnkey service. ICE Water Management completed all implementation phase until the new equipment was operated for sellable production.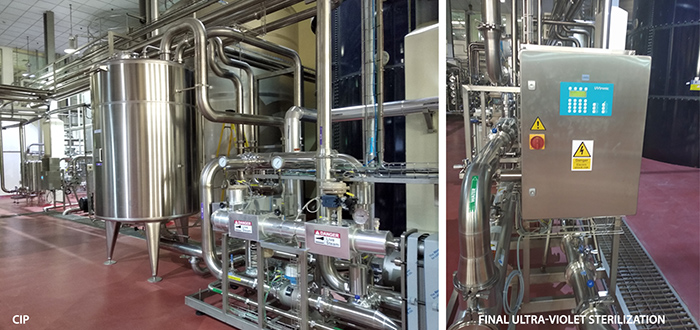 Equipment description
Special care has been taken to limit water consumption to meet an overall system water efficiency over 95%.
All equipment supplied by ICE is hot cleanable at 85°, including the reverse osmosis unit. Optimal hygienic conditions are guaranteed, and any hypothetical microbiological alert can be sanitized with just a few hours of production shut down.
ICE has integrated these solutions for the soft drinks production:
1 feed water pumping station
1 cartridges pre-filtration system
1 dechlorination and purification system through activated carbon
1 reverse osmosis unit protection station (fine filtration on 3 µm cartridge and ultra-violet sterilization)
1 reverse osmosis purification unit including its own cleaning device
1 ultra-violet final sterilization unit (for microbiological double safety)
The storage tank and distribution pumps for water to the 3 filling lines as well as the syrup factory.
The variable flow reverse osmosis unit automatically adjusts to the consumption of the factory's filling units.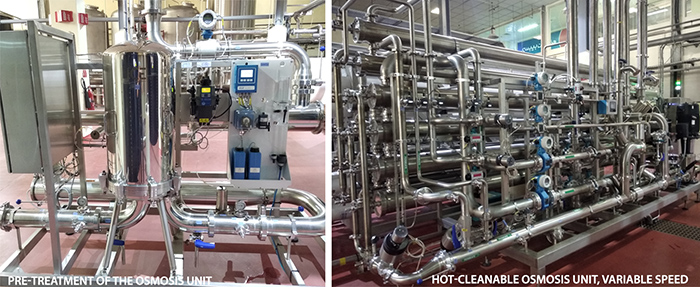 Operation description
Upgrading some historic water treatment facilities that did not originate from ICE was the focus. This requirement was remarkably met, as the ICE equipment is now perfectly integrated into the existing installations.
The ICE teams mobilized to meet this goal and bring the project to a successful conclusion. The design engineers, automation engineers, draftsmen, electricians, on-site construction teams and commissioning staff, coordinated by a project manager, accomplished their various mission within a tight time frame.
The project started in October 2018 and was completed in May 2019 with a two weeks planning reduction.
Review
This was a great success for ICE as the water was delivered two weeks ahead of schedule.
ABP is fully satisfied since operations were completed with no plant shutdown or impact on ongoing beverages production.
The execution of this water treatment plant extension project shows once again how ICE does respect its commitments and meets its partners requirements to guarantee the quality of the beverages produced.
(1) CIP: cleaning in place


More information about Al Jomaih Bottling Plants on website or their Linkedin page.
Click here to see here different ICE technologies.