---
Menabev – Jeddah – Saudi Arabia –
This mega plant is one of the largest PEPSI bottling plants in the world
Produce water in this mega plant which is one of the largest water and CSD plants in the world: this is the challenge ICE faced. The satisfaction of having been chosen as a partner for this challenge, is succeeded by the achievement of this unique project.
In the south of Jeddah in Saudi Arabia our customer MENABEV (at the time SIBCO), a PEPSI bottler, constructed this bottling plant. The MEGA PLANT covers an area of 300 000 m2 the equivalent of 42 football fields! On this gigantic surface, there are bottling lines, water storage and production units, as well as waste water and recycling water treatments. The plant is also equipped with warehouses and silos for raw materials, bottles, empty and filled cans, and for their transportation. In addition there is also beverage transformation and preparation, cleaning, laboratories, offices and finally buildings for services and shipping.
 8 high speed production lines deliver each day 2,5 million liters of beverages (CSD, juice and water) which include a range of PEPSICO products, like Mountain Dew, 7up, Mirinda, and also Aquafina mineral water. These beverages are mainly distributed to Saudi Arabia and GCC* countries.

MENABEV guarantees the respect of the very strict standards implemented by PEPSI, while continuously improving its efficiency. The plant limits its needs for water, energy, and chemicals to the bare necessities. The know-how and the solutions proposed by ICE came naturally to ensure the quality and the volumes of water necessary for its exploitation.
Water supply for this megaplant is secured by a desalinated seawater supply via an underground supply and truck deliveries. The water then undergoes various essential treatments for the removal of all impurities.
WATER TREATMENT FOR MINERAL WATER AND CSD PRODUCTION
Faced with the challenge of the qualitative and quantitative security of water treatment, ICE has integrated its solutions for the production of CSD and Aquafina mineral water. Two water treatments are operational and keep a quadruple disinfection barrier through chlorination, ultrafiltration, ultraviolet, and ozonation, in addition to particulate and organoleptic barriers. By distinct mechanisms germs (bacteria and viruses) and micro-organisms (parasites) are destroyed.
The implementation of Gen2Green technologies (PEPSICO specifications) protects consumers from micropollutants, including the decried PFOA (perfluorooctanoates).
For ICE, and for PEPSI, this is one of the most important greenfield projects (virgin construction land) ever realized with a production capacity of 400m3/h.
Chlorination
Ultrafiltration (UF)
Active carbon filtration
Sterilization by ultra-violet (UV)
Reverse Osmosis
Remineralization
Ozonation
Cleaning in place (CIP)
WATER TREATMENT OF RECYCLING WATER
ICE provided the plant with a water treatment including different systems:
Sand filtration
Cartridge filtration
Membrane bio reactors
Methanization(Anaerobic digestion)
Sludge treatment.
WASTE WATER TREATMENT
ICE recycles water from the sewage plant in order to re-inject it in the water of the utilities. For this we have installed a reverse osmosis system which can process 50m3/h.
ICE has reinforced the application of the health and safety policy for the achievement of this project. During the total duration of the project no major accidents had been deplored for ICE and its subcontractors
On this major project ICE worked in straight collaboration with UK Engineering (project manager), and then interfaced with KHS and Sidel (for the fillers) and GEA (for the syrup room).
Beyond this industrial challenge, it was a real technical feat for ICE. This plant shows ICE's capability to answer to customers' standards and requirements while guaranteeing the quality of the produced water.
A TECHNICAL FEAT IN THE MEGA PLANT FOR ICE – THE FIGURES
3000 m2 dedicated to water treatments
2 finished product (CSD) tanks of 250 m3 each, hot sterilizable
4 reverse osmosis units for CSD which function with a 97% recovery
4 cleaning in place units working simultaneously allowing a 80% production capacity
Backwash water from UF and active carbon filter recycled at 95%
1 reverse osmosis unit for Aquafina water with zero water loss
12 active carbon filters with 100m3/h of production
552 reverse osmosis' membranes installed
More than 17 km of ICE pipe work
Water consumption : only 1,5L of water is necessary to produce 1L of beverage
4500 man.days work for ICE engineers and technicians.
*GCC: The Gulf Cooperation Council  is a political and economic alliance of six Middle Eastern countries—Saudi Arabia, Kuwait, the United Arab Emirates, Qatar, Bahrain, and Oman.
ICE water treatments in a PEPSI Mega Plant: ©ICE WATER MANAGEMENT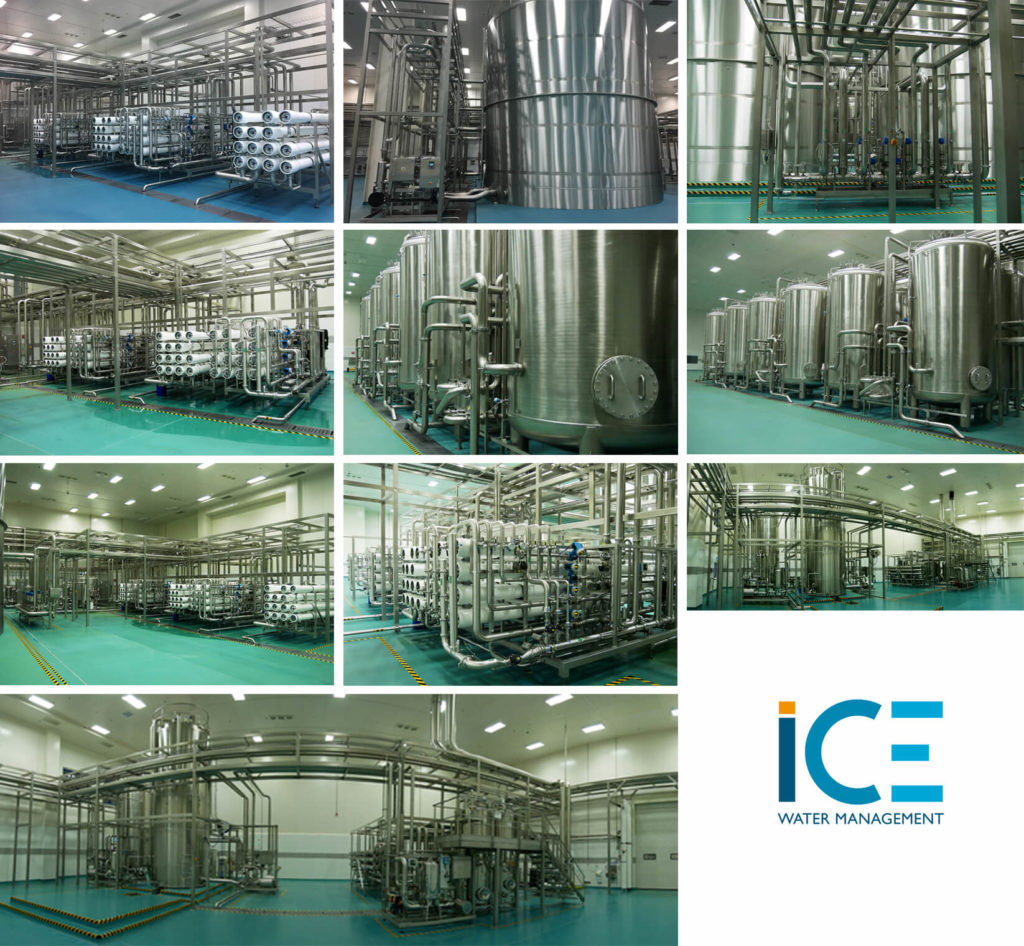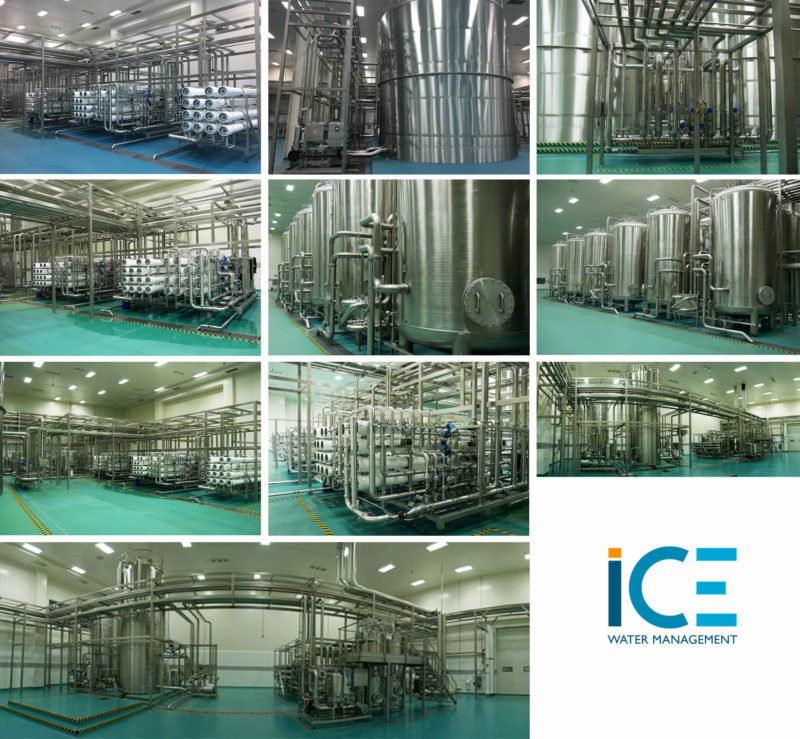 See here some of our customers & success stories.
07/2019